Second trimester
It is almost time for the second trimester to start. If you are still deciding on what you want to study, here is a couple of helpful tips and information you need to know for this trimester.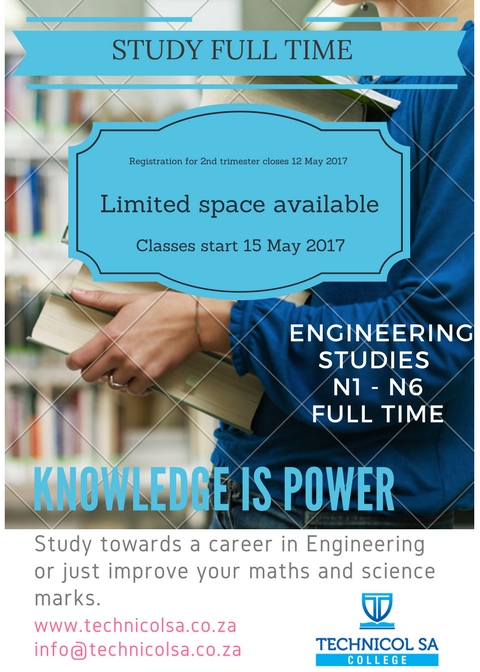 1. What courses can I take?
Technicol SA College offers a number of courses different courses in Engineering studies and Business studies such as Electrical Engineering, Motor and Diesel technician, Mechanical Engineering, Boilermaking, Welding, Millwrite and Civil Engineering.
For admission to these courses you need to have passed grade 10.
You can also obtain an accredited technical matric/NSC by combining any four N3 engineering subjects with Sakeafrikaans and Business English.
Our courses are structured so that you can complete the amount of subjects that you feel comfortable with.
2. What are the costs?
Cost for a full time student is:
| | |
| --- | --- |
| 1 x Subject | R 4 000 |
| 2 x Subject | R 7 000 |
| 3 x Subject | R 9 000 |
| 4 x Subject | R 10 500 |
Full time studies include: study material, lectures, assignment assessment and exam registration.
For further information about our tuition fees, please visit our webpage.
Our once off per subject fee means there are no hidden costs, no registration fees and no unexpected surprises.
3. How do I enrol for a course?
We offer full time courses in Centurion, Full time Electrical Engineering N1 – N3 in Nelspruit and correspondence studies from anywhere in South Africa and neighbouring countries.
To enrol for a course please download the enrolment forms from our website and email both pages of the enrolment form to enrol@technicolsa.co.za with a copy of your ID and proof of payment. Alternatively you can fax it to (086) 685 3456.
4. How do I pass my course?
Once you have successfully enrolled for your courses you will receive a parcel number for your study material, you will be able to trance the parcel on (0860)11502 or on the SAPO website. The study material consists of textbooks, an assignment and old question papers with memorandums, allowing you to obtain a feel of what the exam will be like and how the invigilators will be assessing your work
Full time students will be assisted with lectures from Monday to Thursday for 9 weeks. The Centurion campus provides lectures on all courses; the Nelspruit campus only provides lectures on Electrical Engineering (N1 - N3) courses.
Assignment must be handed in via fax (086) 6853456 or email it to assignments@technicolsa.co.za before the due date and 40% is required for you to pass you course
Exams for Pretoria students will be at the Portuguese Hall (ACPP Hall) and Nelspruit students will be at Nkangala FET in Waterval Boven. The exam centre will not allow you without your exam time table and ID. You are required to have a total of 40% for the exam to pass the course.
Should fail the exam you can enrol for a rewrite up to two times with the same term mark.
If you feel that you are not prepared enough with the exams drawing near, you may enrol for the next trimester free of charge by letting us know in writing before the last day of registration of the trimester that you are enrolled for, this exception will only be allowed for two times.
5. Important dates you need to take note of
Registrarion for the second trimester full time classes closes 12 May 2017.
Classes start 15 May 2017.
Engineering assignments are due 7 July 2017
Business Studies assignments are due 19 May 2017
Exam will be between 24 July and 11 August 2017
By Brendon Taljaard
May 2, 2017